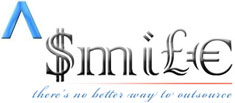 Web Designing
MANY PEOPLE THINK THAT REGISTERING A DOMAIN AND HAVING THE SITE HOSTED IS ALL IT TAKES TO BE ON THE NET. THIS IS AND ISN'T TRUE AND WE'LL EXPLAIN WHY.
Of course, having a domain and a web site equates to "being on the net", but the question is: Does this suffice? Well, if your goal is just to have a presence on the Internet, it may. On the other hand, if you are planning to run a commercial web site, where you want to be able to display, promote and eventually sell your product or service, then you need a different approach to this problem. You will want your web site to have an eye-catching design, straight-forward navigation with no "dead end streets" and more importantly, to be unique and set you apart from the on-line competition.
Smile has two ways to approach this issue:
Creative Freedom - This is the way many of our customers have chosen in the process of developing a web site. You will need to give us an idea on what you want your site to do (e.g. sales, catalogue, personal page, etc.) and we will create a layout and a marketing plan for your site.
Exact Specification - In certain circumstances, you may prefer to tell us the way your site should look and feel, including details for example, like the typeface used and the color scheme. This may be the case when you already have a corporate image and you want to keep consistency throughout your web site.

Lead Generation
Lead generation programs allow you to identify the residents and businesses
Market Research
We understand that accurate data collection on our part is the only avenue
Tele Marketing
Telemarketing lists are a dime a dozen - but a highly targeted,